"Manny" Torti has been practicing law since 1985.  After earning an engineering degree from Boston University, Manny gained "real world" experience working as a Design Engineer for E.I. Dupont de Nemours, Inc. and Texas Instruments, Inc. and working in business/technology development for Texas Instruments, Inc.   Manny earned a law degree from Suffolk University and gained in-house experience with Prime Computer/Computervision before entering private practice with Ricklefs & Giordano, P.C.   Manny founded his firm in 1994 with a commitment and understanding of entrepreneurs and their unique challenges.
His expertise includes over two decades of both legal and business counsel, negotiation, and drafting complex agreements to steer companies to prosperity.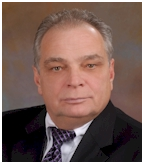 John J. Flanagan, Esq.
"Jack" Flanagan, Esq. joined the firm in 1999 as a principal. He has been engaged in private practice representing entrepreneurs since 1984, focusing his practice on strategies to protect the entrepreneur and both grow and protect his/her business and personal assets. He is a graduate of the University of Rhode Island and Suffolk University law School and is a member of the bar of the Commonwealth of Massachusetts and the State of Rhode Island where he has tried cases since 1984.
His practice has been active in both State and federal Courts as well as before commercial arbitration panels.